My 100% Honest Restored 316 Kadence Theme Review
This post contains affiliate links. As an Amazon Associate, I earn from qualifying purchases.
If you're a blogger and are looking for a beautiful, customizable theme, keep reading! I'll explain everything you need to know about Restored 316 Kadence themes in this Restored 316 themes review. (Hint: you're looking at one right now!)
The most beautiful site I've ever seen
When you first start blogging, you don't necessarily have a keen eye for what makes a beautiful site. Over time as you visit other sites, you realize all of the features and tools that make a great site easy to navigate and pleasing to the eye.
You can absolutely tell when someone has a good theme. The layout is intuitive, the content draws you in, and you find yourself clicking through page after page.
I remember seeing Restored 316 themes first on my friend's blog. I had a sharp intake of breath and recall thinking…
"this is the most beautiful site I've ever seen."
Immediately, I rushed to the bottom of the page to see if there was any information about the theme. I saw the Restored 316 link and literally looked at every option.
What is Restored 316 Designs?
Run by Lauren Gaige, Restored 316 Designs sells themes, block collections, and digital templates. If you're a new blogger, you might be thinking…
"I know what a theme is (kinda), but what the heck are the rest of those things?"
Themes are the visual structure you use to organize the content of your website. It's how your site looks.
Block collections are specific visual components that you might want to add to your site. They make your content pop!
Especially if you already have a Restored 316 theme and you want to use some of the design elements from another theme, you can purchase those blocks to add to your own site.
Not all themes use block collections. There are some specific website design programs called block editors that allow you to build your site using…blocks. The most common block editors are Gutenberg and Kadence.
Conversion callouts and funnel builders are like smaller versions of the block collections. They are pre-designed blocks that you can tweak and customize. They're designed for high visual appeal and impact!
Take a look at some of the conversion callout options below.
Are Restored 316 themes religious?
Restored 316 is a Christian company as evidenced by the reference to John 3:16 in its name. Many bloggers like supporting a Christian company as that aligns with their values.
Personally, I am not religious and do not talk about religion on my blog. Are Restored 316 themes still a good fit for me? Yes! The themes are beautiful and there are no religious symbols or messages built into the themes.
Restored 316 Kadence Themes Review
What is Kadence?
Remember how I mentioned block editors? Well, one of the reasons why I hesitated to switch to Restored 316 themes was because I didn't understand what Kadence was. Did that mean I'd need to buy another theme in addition to the Restored 316 theme?
Kadence is a block editor. You can install Kadence for free. Yes, there is a pro version of Kadence that opens you up to more block collections and features. Personally, I don't like to pay for themes that require me to pay a yearly subscription…I'd rather pay one set amount upfront and be done with it.
Even if you can't afford a fancy theme right now, start with Kadence! You'll be able to use plenty of free blocks and customize it as much as you'd like.
How to install Kadence free theme
The free Kadence theme is incredibly easy to install. Let me walk you through it.
Click the button that says "Try Kadence for Free Now." A zip file will download to your device. Do not unzip it.
Go to your WordPress site. Hover over Appearance in the left sidebar and then click Themes.
Find the small Add New button at the top of the page.
Click the Upload Theme button.
Select "choose file" and click on the zip file that downloaded earlier.
Now, if you want to use Kadence and not install a Restored 316 Design, go ahead and click "activate" to start adjusting your theme to your preferences right away.
If you want to install a Restored 316 Kadence child theme like mine, you'll need to do a couple more steps, but don't worry! Restored 316 offers excellent documentation and has both videos and visuals to guide you through each step.
I promise that if I can do this…so can you!
Should I pay for a theme?
Most new bloggers are working on a shoestring budget. Whatever money they invest in their blogs comes from their grocery budget or paying off their credit card. They try to do as much as they can using free tools and themes for as long as they can.
I'm right there with you! When I started this blog, I was reluctant to pay any money at all. I only wanted to use free tools including free themes.
There are absolutely fine free themes out there that look nice and are workable.
In a free theme, you'll get to customize some parts of your theme, but not all of it. I've spent hours and hours trying to make free themes look good enough while struggling with a slow site and installing plugin after plugin to make my site work the way I want.
Pros of using a free theme
Cons of using a free theme
What types of themes does Restored 316 Designs sell?
Wait a minute. If Kadence is a free theme, what exactly does Restored 316 sell?
Child themes.
Child themes are pre-designed theme templates you can download onto your site so that it already looks a certain way. You won't need to spend nearly as much time tweaking different blocks and formatting features. Plus, you'll know your site is beautiful (and useful) right off the bat!
Even though Restored 316 themes range from about $120-200, break that down. How much time would it take for you to make a site with all of the blocks and features of the Restored 316 themes?
Are Restored 316 Kadence themes a good investment?
Honestly, website design takes me a long time. I'm way faster now that I've had years of experience, but I can easily spend days perfecting my website. When I was using cheap free themes, it took way longer trying to find workarounds for all of the options I couldn't customize. Then I'd get another theme and another theme…wasting time along the way.
I've wasted way more than $200 of my time tweaking cheap free themes. Restored 316 themes are beautiful right out of the proverbial box!
This doesn't mean you don't need to make your theme your own. On the contrary, you'll need to change all of the photos, text, and colors to suit your style.
Quit wasting time and money trying to tweak ineffective free themes that slow your site down
Set up an easy-to-use and beautiful site your readers will fawn over (and that helps convert them into regulars)!
Answer all your tech questions right away using Restored 316's robust theme support resources. They even have a Facebook group!
If you're tech-averse and the thought of installing a child theme sounds overwhelming, Restored 316 also offers theme installation and theme customization services.
How do I pick the right Restored 316 Designs theme?
Since Restored 316 has so many themes, it can be hard to choose one! How do you make sure you invest your money in the right one?
Fortunately, there's a quiz to guide you through the process!
You can also sort the themes by your purpose (lifestyle blogger, food blogger, service-based business, etc) and the features you need (recipe plugin, announcement bar, etc).
When you open the theme you're considering, look for the "view demo" button to see an interactive site with that theme. You'll be able to look at the different homepage layouts, etc. I found this to be so helpful as I could really experience what my reader would see.
Don't forget to check the view on your phone and computer!
Which theme did I choose? (Restored 316 theme review)
Although I first fell in love with the Farmhouse theme, I really liked the homepage options of the Thyme theme. It was simple, neutral, and looked so easy to customize!
I love using a Restored 316 theme and get compliments on my site often! I've been able to tweak and customize it to make it suit whatever look I want. There was a little learning curve to using Kadence, but it's been surprisingly straightforward.
3 things that changed overnight
The longer I have my theme, the more I wish I switched earlier. Imagine how much sooner my blog would have taken off if my site was faster and easier to navigate!
The real reason I pulled the trigger was that I was tired of my site tanking my page speed tests. I had so many plugins installed to offer functionality that my free theme simply could not match. Those same plugins were slowing me down and causing readers to leave my page before it fully loaded. My site speed improved immediately!
Yes, a bad theme can cost you business!
Plus, I was using a couple of tools to help recommend related posts to people at the bottom of each post. They clearly were not working because my page stats improved overnight. Even if I had the same amount of viewers, they were clicking through post after post.
Additionally, I get positive feedback from readers and fellow bloggers all the time. When I started working on collaborating with other bloggers, I know that my slick site helped trick prove to them that I was doing this right.
I know that having a "pretty" blog doesn't sound that important, but it can absolutely set you apart. Remember – Restored 316 themes are also lightweight, mobile responsive, and intuitively designed. They're not just beautiful…they're powerful.
I also like to think of my site as an extension of my home. I want it to be inviting and welcome you in. It's clear that when my readers visit, they stay longer and want to explore more. That tells me that this theme is working for them (and for me)!
Take the quiz to find the right theme for you!
Do I still love my theme?
Looking back over the themes now, I can see that visually, I prefer some of the other themes more like Sage or Farmhouse. They have this aesthetic that gives me that twinge of longing!
However, I know that I can customize Kadence endlessly. Just because there is one feature or design that I like in another theme does not mean that I can't tweak mine to look more like that.
Plus….Restored 316 has another way to help you customize your site (especially as new themes come out and you fall in love). Keep reading!
What if you pick the wrong theme?
If there's something you really like about one of the other Restored 316 themes, you can purchase a block collection. This is a way to install all of the beautiful page designs you love from a different child theme onto your own.
Personally, I fell in love with the brand new Scribe child theme. It's so simple, neutral, and modern. I spent hours trying to make my podcast page look a little prettier and although it's okay, it's not where I'd like it.
The Scribe podcast pages are so beautiful and interactive – they draw you in to keep clicking and listening. One of my next blog purchases will be the Scribe block collection and I can't wait!
Are Restored 316 themes for beginners?
At this point, we've talked about a lot. We know about Kadence themes and that Restored 316 themes are child themes that basically pre-install Kadence blocks on our sites. This means we are installing beautiful and functional visual elements that we can customize to reflect our brand and personalities.
We talked about how to install Kadence, how to pick a Restored 316 theme, and what happens if you don't like your theme.
Here's the last thing we need to discuss.
Where most bloggers start (and get stuck)
When you first start blogging, you typically don't have a fully formed plan of what you want to do.
Maybe you want to start a food blog or you want to share stories about your travels.
You want your website to be pretty, but you don't know much about how to make it profitable or user-friendly.
If you want to turn your blog into a business, you need to think ahead.
My advice for you right now is to dream as big as you can.
Is there any chance you might want to start a podcast? Write a book? Set up a YouTube channel? Do you want to sell courses or maybe even physical products?
Pick a theme that will help you grow
Restored 316 themes are the starting point. Many of them already have pages to help you promote products or services.
This is why I fell in love with the Scribe theme – it promotes your books and podcasts in the most enticing format I've ever seen on a blog.
Even if you don't feel ready for that next, big scary step, starting your blog with a beautiful, responsive, customizable theme will allow you to grow your site as your vision expands.
What if I start with a free theme?
Here's what happened to me.
I was trying to do so much for free that I ended up wasting a ton of time I should have spent focusing on creating good content and learning SEO.
I didn't need to spend hour after hour trying to get my sidebars and menus perfect.
Let's say you start to work on your website and you realize you want more.
You want to help draw your reader in even more.
Maybe you want to sell a course or a program.
Perhaps you are hoping to turn your website into a money-making machine (with heart and soul)!
Instead of wasting a ton of time either designing them yourself or throwing piles of cash at funnel-building programs every month, you can go back to Restored 316 and purchase their conversion callouts or funnel bundles. They even have shop page templates and Canva themes to unify your entire web presence including social media.
TIP: If you really want your theme to grow with you, choose one that has a corresponding funnel template.
Although I like my Thyme theme, I skipped this step because I never saw myself as someone who would ever sell anything online. I remember literally thinking, "oh, I'd never need that."
Just a few short months later…
Literally just 3 months later, I am that person! I started a podcast and opened an Etsy store. I started planning workbooks, printables, and courses to sell.
If I'd only had a little more courage and confidence, I might have made a choice that fit more with my future dreams. I was thinking so small I couldn't even see them out there!
Note: Although Thyme does have a sales page, it does not have a funnel template. The funnel bundles allow you to create a unified branding image for your lead magnets (freebies) and paid products and services. They make every inch of your site experience cohesive for your readers or customers.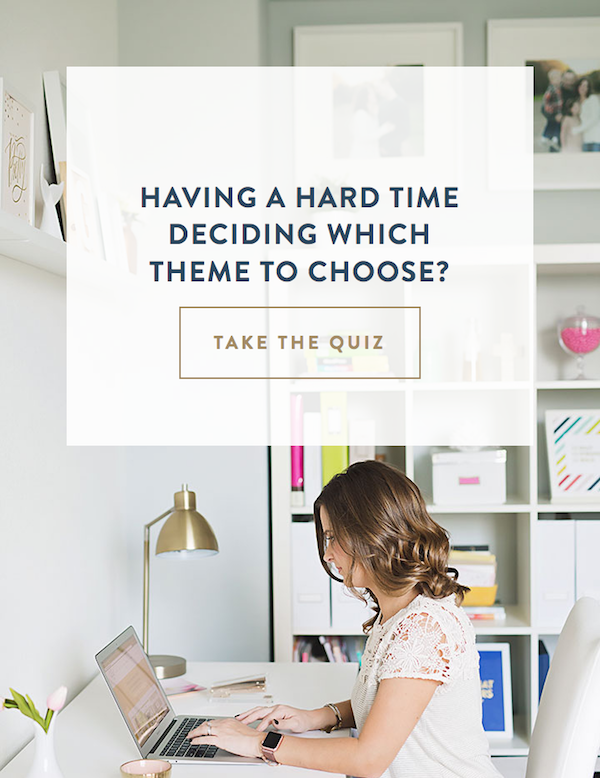 I wish I started with a Restored 316 theme.
Although it's hard to invest anything in your blog when it still feels like a hobby, there are a few things I wish I splurged on right away that would have helped. Looking back, I see how much time I wasted tweaking my site when I could have been building my business.
Imagine starting your site and knowing that every move you make is calculated to ensure you're going to have a beautiful, powerful, and effective brand all with one cohesive website that can grow as you do.
Yes, it costs $120-200. Yes, that's scary.
Personally, I think the value I get from my theme far exceeds that figure. Just imagine how it will feel having a blog you absolutely love and that you know is not only optimized for your readers, but that will also help you increase your traffic and bring your readers back again and again.
Picture yourself not spending hours stuck in a Google rabbit hole researching the best free themes and instead, using those same hours to set up a site you want to show everyone you know!
When you're ready to get started, click here to shop!
What part of this Restored 316 themes review was the most helpful?
Do you have any questions I can answer? Have you tried a Restored 316 Kadence theme yourself? Share in the comments!
We love to share with other bloggers! This post was shared at one of these great
linky parties!