14 Gifts the Gardener in Your Life Will Actually Enjoy
This post contains affiliate links. As an Amazon Associate, I earn from qualifying purchases.
So you love someone with a green thumb. I bet you get lots of zucchini in the summertime! As an avid gardener myself, I really want to talk to you about gifts that gardeners love!
Prepping for the holidays?
These low-waste holiday gift ideas will help you reduce your carbon footprint while still sharing the love this holiday season!
Best Gifts for Gardeners Tips
Buy quality
I'm a big believer in buying gifts that people really want or use. If you want to buy garden tools, spend a couple dollars extra to get nice ones instead of the cheapest ones possible. Although some inexpensive tools may be made to last, most are not. A poor quality tool may break sooner than a mid-range one, creating more waste and facilitating another purchase for the same thing in the future. I really believe we should only buy consumer products that are made to last.
Consider Building Instead of Buying!
One really great thing about gardening is that many of the best gifts are DIY! I've included building plans for people who are handy with tools and links to buy for people looking for something available right away.
A few things to consider
Things to consider about your recipient
Things to consider about you
– Level of gardening experience
– Specific areas of interest
– Housing permanence (rent, own, move often, highly rooted, etc)
– Your budget
– Amount of time before deadline (time to build vs. time to buy)
– Building or crafting skills
If your nephew loves growing vegetables and really wants to install raised beds, it does not make as much sense for you to give him a potted hydrangea. Send him a gift card for lumber or pitch it on a soil order!
Similarly, if your great aunt is only interested in cultivating rare roses, tomato plants are not up her alley.
---
The Best Gifts for Gardeners
If your friend or loved one is like me, they love growing vegetables and flowers in their backyard! There are so many ways to thrill this person:
A gift card to their favorite seed supplier
One of the best parts of gardening is deciding which seeds you want to buy! Seed catalogs themselves are beautiful things and come in the dead of winter when you're desperate for dirt. Pretty much every gardener I know oohs and aahs over Baker Creek Heirloom Seeds, so it is a great choice!
Plant starts from their favorite nursery
There are some plants that are really hard to grow well from seed, like tomatoes. I recommend planting these from starts, meaning seeds another grower raised for someone else to plant in their garden. You can pick the starts yourself if you know what sort of plants they like to grow or you could take them shopping/give a gift card.
Donate a fruit tree or perennial
Backyard gardeners who dream of having their own little homestead would LOVE a fruit tree! My husband and I even had a "Future Fruit Trees" fund on our wedding registry to ensure we could afford a couple of fruit trees. Many fruit trees range from about $25-50, depending on the source, fruit type, and plant quality.
It doesn't have to be just fruit trees! Rose bushes, hydrangeas, and peonies are all wonderful gifts for gardeners who want perennial flowers. Many backyard gardeners would be thrilled with berry plants, too!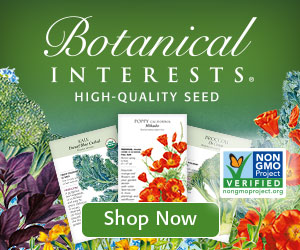 Build or Buy a Great Harvest Basket
Avid gardeners often harvest produce, herbs, and flowers. They need containers to do this and a durable harvest basket is just the ticket. You don't have to buy a garden hod like this. You can weave or build one depending on your skill level! This would be one the best gifts for gardeners who enjoy growing lots of vegetables
Upgrade their pruning shears
There are some gardening tools that every gardener needs to have. Buy a nice quality tool that will last your gardener for years. There's also a tool for every job. Every farm I've worked on has had curved pruning shears and straight shears for different jobs.
Fund their raised bed building project
If your loved one is really motivated about gardening and you can tell they are ready to expand their space, pitch into with some funds for a raised bed and soil! Many gardeners build their raised beds themselves with wood from a local hardware store and I recommend sourcing garden soil locally. We spent about $150 for good quality garden soil for our four 4×8 garden beds. That would be a beautiful gift for newlyweds! Yes, gardeners will be moved by a generous gift of good dirt!
For people not ready or able to install garden beds, you could consider gifting smaller, movable raised beds or fabric garden bags!
Help them grow up! (That's a bad vertical gardening joke)
Especially for gardeners growing in small spaces, one way to increase production is to go vertical! There are lots of ways to do this: attaching a garden system to a wall or incorporating a free-standing vertical garden like the one below.
Got a little time? Try building your friend one of these DIY vertical gardening systems!
Start a Worm Farm or Composting System
Gardeners who are serious about reducing their waste and increasing their soil health will probably want a composting system. This depends on if they have enough space for a tumbling system or don't mind having a box of red wigglers breaking down kitchen scraps. These systems take some time and money so home gardeners like myself would be thrilled to have someone build me a composting system or buy one like the image below!
Build a Season Extender
All gardeners are limited by the seasons in some way. Especially for people with freezing winters, you can help them grow food earlier and for longer with a season extender! This can be as simple as building a cold frame out of old windows or buying or building a grow tunnel.
Farmers near me rely on remay and other lightweight agricultural fabrics to increase shade, reduce insect damage, and extend the growing period. You just need to know your gardener's garden bed measurements.
Support their Seed Starting Addiction
Remember how I said it's hard to grow tomatoes from seed? That's true…unless you have an indoor growing space. These include grow lights and a heated seed mat. This is for gardeners ready to grow all of their own plant starts.
Gardening Books for Your Region
There are SO many good gardening guides out there! From raised bed gardens to square foot gardens to hugelkultur, there is a book for every type of garden! There are also regional guides, which can be really helpful for beginners. I recommend finding a gardening book based on your person's interest, region, and level of experience. If your friend is a master gardener, they do not need Gardening for Dummies. 🙂
Make Watering Way Easier
One of the best ways to simplify a gardener's life is to install a drip irrigation system! These are not that expensive and ensure that your friend's plants get even, consistent, and regular watering.
Custom Garden Signs
I love sweet, thoughtful gifts. Getting a custom sign for my garden would be so sweet whether the person bought it or made it! There are lovely customizable garden signs available on Etsy.
Build a Potting Bench
This farmhouse potting bench from Ana White is so beautiful and will make it way easier for the gardener in your life to repot plants, start seeds, and care for their garden.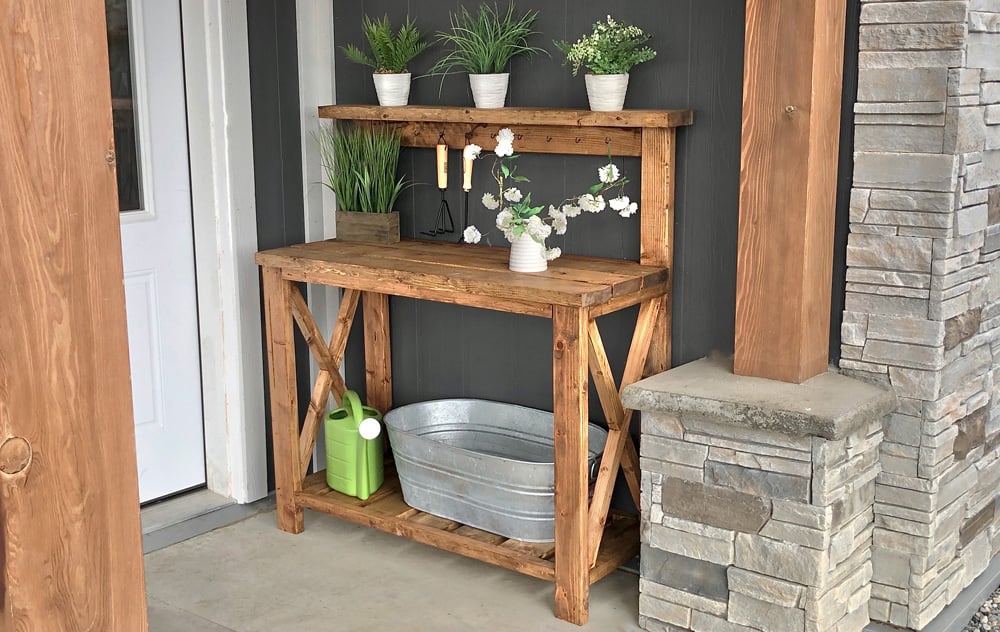 Has this gardener gift guide been helpful?
I really focused on items I've bought for my garden, my favorite garden gifts, or items I have on my own wish list! Each gardener is different and you know your friend best. Find something that makes you think of them.
And again, please consider making your gift! I love receiving plants from friends and hand-me-down garden tools. Acts of service count, too! I consider delivering soil or helping us build our garden boxes as gifts, too!
That's it! These are my top picks for the best gifts for gardeners.
Gardeners, did I miss anything? Tell me below!
Linking to:
Thursday Favorite Things at Eclectic Red Barn
Hearth and Soul Link Party at April J Harris
Friday Favorites at Simply Sweet Home
We love to share with other bloggers! This post was shared at one of these great
linky parties!